Posted by Callum McCrimmon on 27th Aug 2021
London's Leadenhall and Old Spitalfields Market
This beautiful market is located in Gracechurch Street, EC3V, in the heart of London's financial district. It takes just thirteen minutes to walk there from London Liverpool Street Station.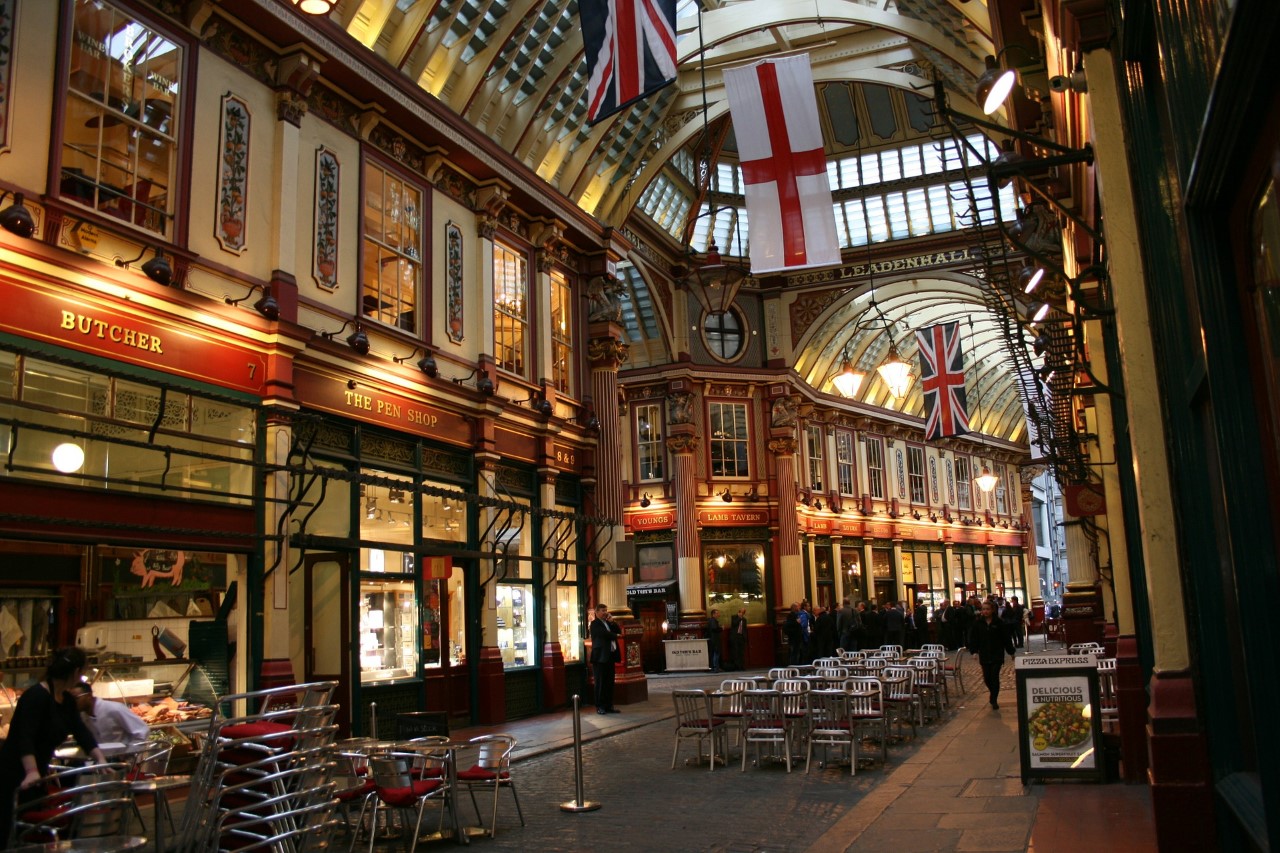 Established in 1321 the market is celebrating its 700th year in 2021. Originally a market selling meat, poultry, fish, herbs and game it now houses boutique shops and restaurants ranging from fine dining establishments to pubs and family friendly restaurants. It is a place for Londoners, city workers and tourists to meet up, to eat and drink and to be sociable. It is located in what was once the centre of Roman London and in the 15th century it was bought by Dick Whittington, the famous Lord Mayor of London, who transformed it in to a stone structure. Leadenhall Market, as it is now, is open air but has a roof. The building we see today was designed by architect Sir Horace Jones in 1881 and gained Grade II listed status in 1972 due to its special architectural and historic interest. Interestingly, Jones was also responsible for the designs of two other famous London markets, Billingsgate and Smithfield along with Tower Bridge. To our eyes today, Leadenhall is rather grand and, true to the style of the Victorians, it's very ornate. As was typical at the time the building was built using wrought iron and glass.
It really is worth visiting even if it's just to see the wonderful architecture. When I first visited, quite by chance, it was like finding a little gem popping with colour and pattern hidden amongst all the new high-rise buildings that have been built around it.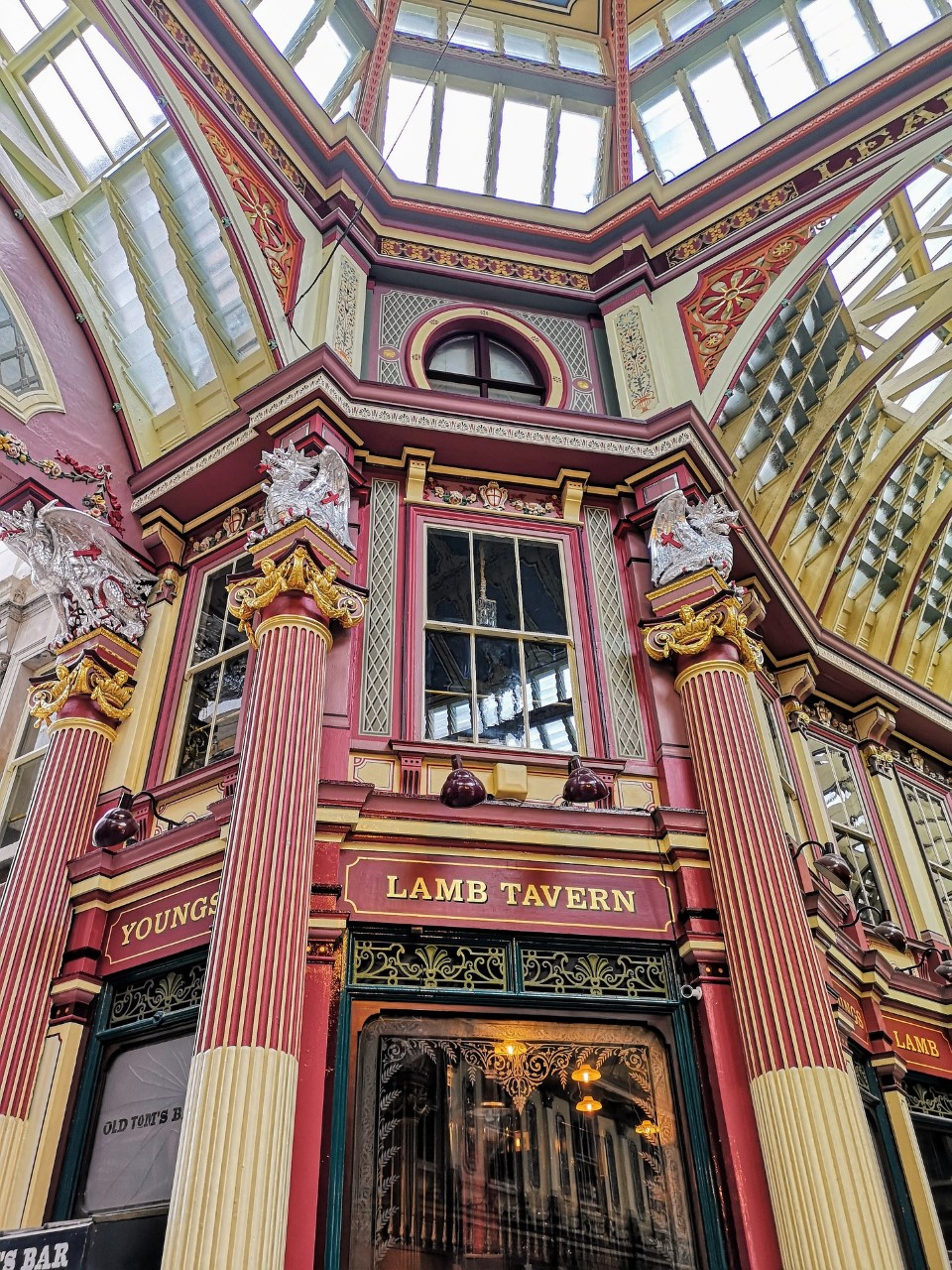 If Leadenhall Market looks familiar it may be because it featured as Diagon Alley in the Harry Potter films! Also, in Harry Potter it was used to represent an area of London around the "Leaky Cauldron" and made appearances in films such as "The Imaginarium of Doctor Parnassus" (2009), "Brannigan" (1975) and the music video for Erasure's song "Love to Hate You" in 1991, to name but a few. It also featured on our screens during the 2012 London Olympics when runners taking part in the marathon ran across its cobbles.
The Lamb Tavern, an award-winning pub has been a part of the market since 1780. Within the pub you'll find the cellar bar, "Old Tom's." A reasonable person may assume it to be named after a previous landlord or perhaps a jolly patron. You would be mistaken. It's actually named after a very lucky goose.
Due to be despatched from this world along with 34,000 other geese Tom managed to escape. After evading his destiny, the gander became quite a legend locally. Traders and inn keepers took to feeding him and at the ripe old age of 37, when he eventually passed away, he actually laid in state in the market until he was buried there!
There are about 35 retail outlets in the market today and they include a card shop, a French Bakery, a cheese shop, wine bars, restaurants, a beauty salon and clothes shops.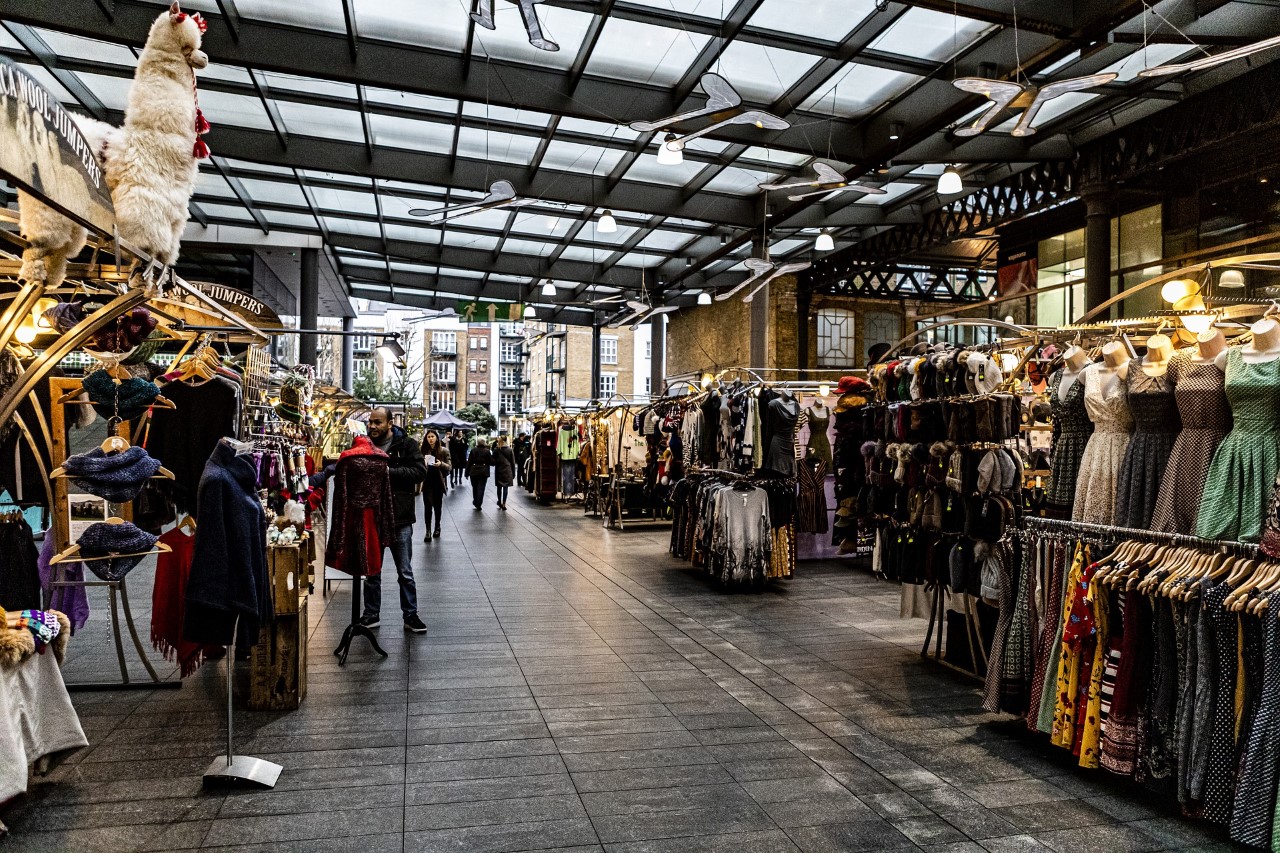 A number of events have taken place in Leadenhall Market this year to mark its 700th year. The most recent and ongoing is the UAL Graduate Showcase. Students from the University of the Arts London have taken over a shop window to display their artistic endeavours and displays include beautiful costumes designed for theatre productions of A Midsummer Night's Dream and detailed animal models. The show will run until late August.
Previous events have included live music and entertainment alongside free guided tours.
As normality has started to return after Coronavirus Leadenhall Market has adapted to the new circumstances in which we find ourselves. The building lends itself to socialising in an outdoor setting. The area is really a covered outdoor space so the pubs and restaurants have been able to offer outdoor space to diners.
Although access to the market is available 24 hours a day it is wise to check the opening times of the specific retailers to avoid disappointment.
Leadenhall Market is well served by public transport. London Fenchurch Street, Cannon Street, Liverpool Street and Moorgate Stations are all nearby as are nearby as are Fenchurch Street, Cannon Street, Liverpool Street and Moorgate underground stations.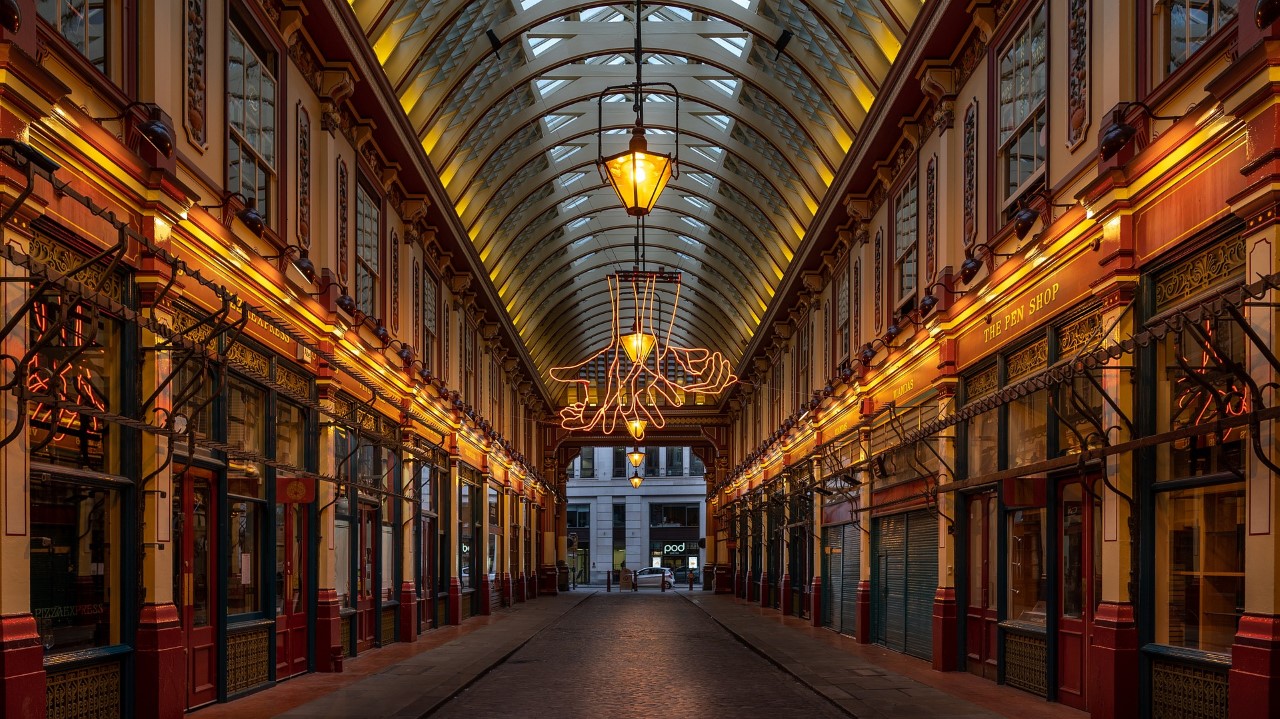 If you have time to spare Old Spitalfields Market is only about a 5-minute walk away from Leadenhall Market and even closer to Liverpool Street Station if you are travelling by train. Old Spitalfields has 88 market stalls as well as 44 shops and lots of places to eat with a total of 25 Street Food Traders. Similarly, to Leadenhall, Old Spitalfields Market is also housed under a Victorian Market Roof. The architecture is nothing special, completely different to Leadenhall but Spitalfields has lots to recommend it. It's always been busy when we have
visited attracting both London locals, office workers and visitors from further afield. The stall holders at Old Spitalfields Market are chosen individually by the organisers so that local creatives and small producers are represented. This ensures that visitors to the market have access to items that are not readily available elsewhere. It makes browsing the market a really enjoyable experience. Leather goods, art, jewellery, pottery, handmade clothing and glassware are among the beautifully crafted pieces available.
Street food available includes New York burgers, Sri Lankan, Italian, Indian, Chinese, Jamaican, Japanese, Venezuelan, Turkish, Taiwanese and Ethiopian.
https://www.leadenhallmarket.co.uk/visiting-us/